If you live anywhere around West Calgary, Wentworth is name that you're familiar with—that's because Wentworth is synonymous with luxury. The upscale multi-family homes, stunning single-family homes, and immaculate estate homes leave no room for doubt as to why this is one of Calgary's most popular places to live. In this article I'll be offering 5 reasons to invest in Wentworth Real Estate today!
Location, location, location!
Located in SW Calgary, Wentworth is bounded by Old Banff Coach Road to the north, and Bow Trail to the south. It's a part of the larger West Springs neighbourhood and plays a role in earning this area a reputation for excellence. You would scarcely believe that these luxury lots in Wentworth are just over 20 minutes away from Calgary's downtown core.
The natural beauty of SW Calgary has given rise to a handful of wonderfully kept parks and pathways that are meticulously maintained by the kind folks of the Wentworth Residents' Association. Maintaining a healthy and active lifestyle couldn't be easier, and you'll be able to enjoy some nature to boot. I recommend checking out Edworthy Park, Sarcee Park, and Patterson Park. And don't forget to take a jaunt down the winding trails in the Wentworth neighbourhood itself!
Estate homes in Wentworth, Calgary
Wentworth is home to some of the most grandiose homes in the city, bar none. The average price of a Wentworth home for sale is bound to fetch more than a million dollars. I can guarantee that those who decide to make that investment will have no regrets about buying in to this prestigious community.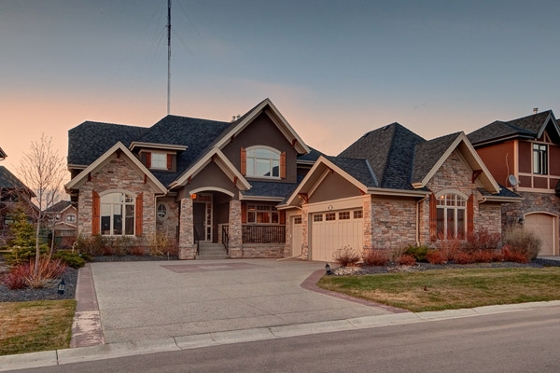 If you're in the market for an upgrade and have set your eyes on an estate home, I recommend taking a drive through the three distinct districts of Wentworth; there's the Willows of Wentworth, Wentworth Estates, and Wexford. They each have their own unique charms but the thing that unites them all is that they all have classy Calgary mansions.
Multi-family residences in Wentworth, Calgary
The main subdivision of Wentworth features an eclectic mix of townhomes and multi-family residencies. These inclusively priced homes give individuals other than the high rollers a chance to become a part of this dynamic and growing community.
I suggest taking a closer look at Vivace on West 85th. This new luxury condo and townhome development is piloted by Bri-mor Developments and Streetside Homes.
The builders only opened the doors of their presentation centre in early 2015 and are now accepting bids on pre-construction homes. It's definitely in your best interest to plan your purchase ahead of time and get in on the ground floor. Developments like these are only going to appreciate in value!
Shopping in Wentworth, Calgary
If you're a fan of shopping then you're in luck. Besides being so close to the city centre and the plethora of shops there, Wentworth has some shopping districts of its very own that are bound to impress.
Residents of Wentworth can head slightly south for the Aspen Landing Shopping Centre. This shopping plaza was built in 2009 with the residents of SW Calgary in mind. Some of the many stores housed in the Aspen Landing Shopping Centre include the Alberta Diamond Exchange, several major bank branches, restaurants, and health and wellness retailers like Shoppers Drug Mart.
Strathcona Square Shopping Centre is another nearby shopping district due east of Wentworth. It's an upscale shopping centre that differs from the others, namely the fact that this one is home to many more professional services. But on that note, I should talk about one of the chief attractions of living in Wentworth, Calgary.
The Wentworth Medical Clinic is a reliable medical institution built to serve the people of the Wentworth community and the surrounding area. It's a walk-in clinic for those in need of medical attention and also has a number of medical services that the staff provides by appointment. These services include: dental care, chiropractic care, laser skin treatment, and tattoo removal. The amenities in this neighbourhood certainly endow you with the tools necessary to lead a healthy life.
Investment Opportunities
There's a lot going on in Wentworth and the entire West Calgary area. When you're looking at areas to buy property in, a hallmark of a good investment is the simple fact that there is work being done to further improve life in the neighbourhood.
The care and dedication of the Wentworth Residents Association, the new developments like Vivace on West 85th, and all of the local shopping districts coupled with the neigbourhood's distance from the city spells prime real estate.
Calgary will undoubtedly continue to grow but there's only so much land within reach of the city centre. As the population of Calgary soars north of a million, the demand for properties like these is only going to increase, and so will the price tag!
If you'd like to hear some more about this amazing neighbourhood from someone who lives there, you can get in touch with me directly and I'll show you the ropes.
Website: http://totalhomemarketing.ca/
Email: georgebyma@shaw.ca
Direct: (403) 690-2020