Have you noticed the growing number of Calgary open houses in your neighbourhood? The Calgary housing market is in the midst of a transition and as such, more and more people are deciding to list their homes. That may be fine and dandy for homebuyers because now they've got the ability to shop around--but, as a Calgary home seller, it's important to acknowledge the fact that your home isn't the only one that prospective buyers will be checking out.
In order for your house to stand out from the rest, you've got to make a lasting impression. A great way to do this is by holding an open house. That said, I present my latest article, 5 tips for how to hold the best Calgary open house ever.
1) Curb appeal
It's said that first impressions are made within one tenth of a second. In the case of your home, potential homebuyers are going to be making judgments before they even put their car in park. That's why it's important to step up your curb appeal and ensure a good first impression.
Some simple tips for improving your curb appeal are: a well kept yard during the warmer months, ensuring there's no garbage or receptacles in the front yard, and sprucing it up with some nice potted plants.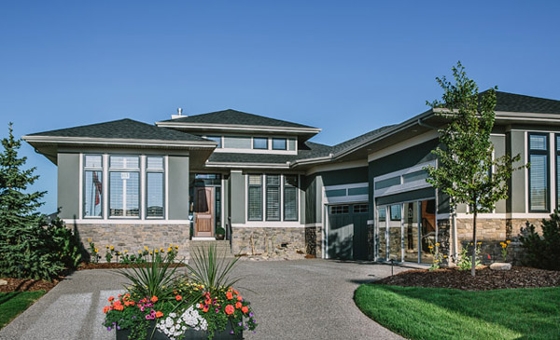 2) Treats and goodies
When you're showing your home, it doesn't hurt to have some snacks floating around. The idea of the Calgary open house is to give potential homebuyers an idea of what it'd be like to live there. And when people are at home, they're accustomed to having treats and goodies on hand. Take a step in the right direction by being ready to dish out the snacks—the tastier the better!
3) Create an ambiance
Your home has the ability to convey a range of emotions, but the feelings you want to evoke are bright, warm, and welcoming. You can easily do this by taking a minute to improve the scent, sights, and sound of your home.
An idea for improving the scent of your home is purchasing a few Glade PlugIns® and placing them in different rooms throughout your home. Also, it wouldn't hurt to bake some cookies on the day of your open house. You'll be filling your home with that delicious aroma that we all find so hard to resist—plus more snacks are never a bad thing.
Improve the sights in your home by opening all of your blinds and flooding the rooms with natural lighting. Do your best to keep sightlines open and unobstructed by decluttering your home and keeping the doors throughout your home wide open to give it an open, welcoming feel.
As for sound, if you've got a stereo system handy, or even one of those little iPod docks, play some calm, relaxing background music. It'll help to put the potential homebuyers at ease and play a big part in creating an ambiance.
4) Tidy up!
There's nothing worse than people walking into a home and being obstructed by clutter. Make sure that your entrance is clean and clear for your guests. As I mentioned with first impressions on the exterior of your home, the same applies to the interior. Two rooms to pay special attention to are the kitchen and the bathroom.
Keep your kitchen free of clutter by ensuring that all of your dishes are washed and put away, that your stovetop is clear of pots and pans, and that no one will find a half eaten tuna sandwich on your kitchen table.
The bathroom is another place that people tend to spend a fair amount of time in so you want to be sure that it's spic and span. Clean your mirrors, hang some fresh towels in there, and do your best to keep your counters clear of unnecessary clutter. On top of it looking clean, it will appear to be more spacious as well.
5) Tell people
If you're having a conversation with someone, casually mention that you're holding an open house. There's a good chance that they're not shopping for a home at that exact moment, but there's a chance that they might know someone who is. Don't shy away from sharing the details of your open house on social media either.
However, if you choose to use a REALTOR® to help you sell your home, they have access to a full suite for marketing tools designed to get the word out. These tools range from simple things like flyers, mail outs, and physical banner ads out on the street to online marketing tools like the Multiple Listing Service (MLS).
If you're considering listing your home, and you found these 5 tips for how to hold the best Calgary open house useful, don't hesitate to reach out to me directly and I'll help you get the most value for you home:
Website: http://totalhomemarketing.ca/
Email: georgebyma@shaw.ca
Direct: (403) 690-2020