West Calgary real estate is decidedly more expensive than other areas in the city. Cougar Ridge however features many mid-range properties that are ideal for growing families who are looking to upsize their current homes.
West Calgary homes are cherished for their proximity to the city, their large lot sizes, and for purveying a prestigious lifestyle that's coveted by many. In my latest article, Cougar Ridge real estate: A homebuyer's guide to this west Calgary neighbourhood, I would like to shed some light on what makes investing in Cougar Ridge real estate a smart move.
Homes for every lifestyle
West Calgary neighbourhoods, specifically Cougar Ridge, have much more to offer than luxury homes. While they definitely have a distinct presence in the area, Cougar Ridge still offers homes for every lifestyle.
Cougar Ridge has a high volume of mid-range houses that are ideal for young families who are in the market for a new home. The generous lot sizes and access to both green space and amenities make it nearly impossible to deny the inherent value present in these properties.
There are also a handful of multi-family residences for sale in Cougar Ridge, Calgary. For example, the Landings at Cougar Ridge is a luxury development featuring varied properties. From row houses to luxury villas, these cozier properties present an opportunity to become a part of the Cougar Ridge community. These homes are treasured for their nearness to a wealth of west Calgary attractions, and of course the city itself.
Cougar Ridge real estate successfully blends the quiet of the suburbs with the convenience of the city.
West Calgary attractions
West Calgary homes are known for offering residents the best of both worlds. On one hand, there's a ton of green space surrounding the neighbourhood. Much of it is home to archaeological dig sites, which give the community a cultural and historical significance. The areas are preserved and will remain protected so that locals can enjoy them.
Click here to access my article on 10 fun things to do when living in SW Calgary.
On the other hand, the neighbourhood borders directly on the Canada Olympic Park, a gathering place for the active folks in the community. There are a wide range of shopping centres and local amenities where Cougar Ridge, Calgary community members can find everything they need to make life simpler. Some examples of the many West Calgary amenities are: West Market Square, Strathcona Square, and the widely known Mount Royal University.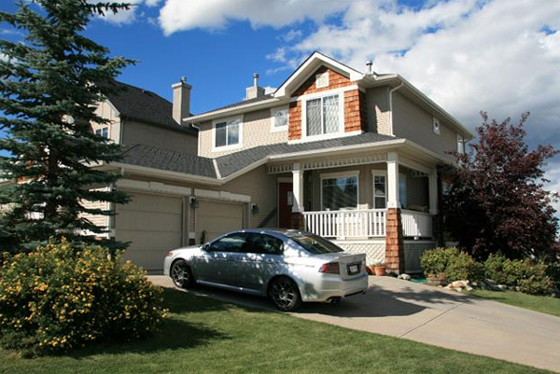 A growing community
A sure sign of properties that will appreciate in value is the amount of new construction in the area. The Landings at Cougar Ridge are nearing completion and the addition of this new upscale development is guaranteed to usher new life into the community. The new homes and the residents they are attracting will actively bolster the area's tax base and increase property values across the board.
The fact that preserved areas and permanent fixtures like the Canada Olympic Park surround the community means that while the demand for these homes may increase but the supply of them will remain fixed—so, for homebuyers who are looking to become a part of a growing community such as this, I recommend getting in on the ground floor!
As always, if you have any further questions about Cougar Ridge, Calgary real estate, I can be reached anytime at:
Website: http://totalhomemarketing.ca/
Email: georgebyma@shaw.ca
Direct: (403) 690-2020